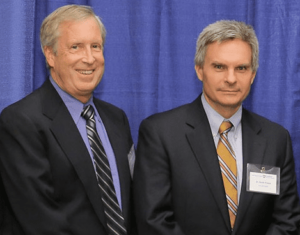 Image: Penn State, Barry Fell and Dr. Randy Haluck, Department of Surgery 
Penn State doesn't just nurture entrepreneurs; it provides concrete opportunities for those with promising, disruptive, early-stage technologies and innovations to compete as the best and brightest in their fields.
In 2021, Invent Penn State's annual Tech Tournament went virtual to showcase eight different innovations, with judges selecting winners based on entry criteria and the strength of each contestant's presentation, which was provided virtually. Cranial Devices, Inc. (CDI), co-founded by Barry Fell and Dr. Randy Haluck, took this year's top prize of $75,000. The duo, who also co-founded SIG Medical Corporation, a medical device company later acquired by Zimmer-Biomet, also won first place at Invent Penn State's very first Tech Tournament in 2016.
Inspired by the shortcomings of current treatment options for hydrocephalus, the two founded their company to continue their work on a Penn State technology dubbed the "HydroFix."
"Hydrocephalus is a $3 billion annual healthcare cost, with roughly one million patients currently diagnosed in the United States," Fell explains. The condition, which is caused by too much cerebrospinal fluid (CSF) built up around the brain, has no cure. Instead, patients are forced to undergo a lifetime of surgical treatments.
Fell notes, "Approximately 98% of hydrocephalus shunts fail by year 10 and 40% fail within the first year. These shunts have the highest failure rate of any medical implant sold today."
With the HydroFix, CDI could provide a new treatment option for adults with normal pressure hydrocephalus (NPH). The condition, which is typically found in the elderly, causes symptoms much like Alzheimer's. The symptoms, which include incontinence, dementia and gait problems, can be reversed with shunting, but only about 1% of the 750,000 diagnosed NPH patients in the U.S. are currently treated due to the high failure rate.
"NPH patients deserve a better solution," says Fell. Conventional shunts are too long and pose the risk of over-draining CSF. However, he says, "the HydroFix offers an elegant solution to effectively drain CSF while shortening shunt length and eliminating the risk of over-drainage."
Helping Pharmaceutical Companies Get to Market Faster
The Virtual Tech Tournament's second place winner, GradienT, was awarded $50,000 for "TemperSure," its lab on a chip platform for measuring drug stability. As Dr. Bradley Rogers, lead scientist notes, "Unstable drugs are a nightmare for the pharmaceutical industry because they're difficult to manufacture and they have short shelf lives. TemperSure's small scale design allows scientists to predict these problems early on, when their materials are limited."
It takes more than $6 million and five years to bring a single drug into clinical trials. For pharmaceutical companies to get to market faster than their competitors, they have to avoid delays and failures. One of the largest challenges is to pick the right drug candidate to bring to market. It's made more difficult due to the limited amount of material available for risk assessments.
That's where TemperSure shines. This platform has the potential to reduce failures by up to 25%. Its patent-pending design exposes small amounts of drug materials simultaneously to a range of temperatures, while recording videos of the drug over time. Other tests on the market only work for low concentration drug products and/or lack the ability to measure the sample over time, while also lacking the automated sample preparation TemperSure offers.
Disrupting the Current Standard of Care
Lastly, ElkosRx won $25,000 and third place with its topical treatment for diabetic foot ulcers (DFU). Doctors Joseph Sassani, Patricial McLaughlin and Ian Zagon of Penn State's College of Medicine worked together to develop its innovative topical treatment.
In the U.S. alone, DFU treatment costs more than $40 billion per year and poses an amputation rate of 20% to 25%. By treating early-stage wounds, ElkosRx could not only disrupt the current standard of care, but also improve the lives of many people around the world.
To learn more about Invent Penn State and the resources it provides entrepreneurs, visit https://invent.psu.edu/.