By Holly Riddle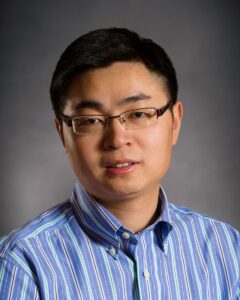 What do cephalopods like squid and octopi have in common with artificial organs, skin prosthetics and neurorobotics? According to one team of researchers, led by Dr. Cunjiang Yu, Dorothy Quiggle Career Development associate professor of engineering science and mechanics and biomedical engineering at Penn State, quite a lot. The team recently announced the development of the first artificial skin capable of maintaining cognitive characteristics when deformed — an artificial skin that mimics the elasticity and neurologic functions of cephalopod skin. It's expected the development will have applications beneficial for neurorobotics, skin prosthetics, artificial organs and more.
We spoke to Yu to learn more about his research.
What is your research topic and why is it important on a global scale?
My research topic is soft electronics and its applications in robotics and medical. Soft electronics is a class of electronic device that is mechanically soft, different from conventional electronics that are mechanically rigid. It is important because it can address some grand challenges, while other technologies could not.
The recent work on stretchable neuromorphic cognitive skin is one example of such soft electronics, which holds great promise in robotics, wearables, skin prosthetics and bioelectronics, and would lead to a massive leap in their development.
How do you envision your research impacting/changing your industry?
My research could directly or indirectly impact or change the industry, in many ways. For example, on one hand, [using] soft electronics as medical devices for health monitor[s], organ sensing and therapy, could disrupt some existing medical products in clinical usages.
On the other hand, some of my research could also lead to implementation or improvement of existing industries through new device technologies and new knowledge generated in our research. In addition, our research also creates things, such as new devices, new manufacturing tools, new materials, which do not exist in industry as of today.
What inspired you to follow this line of research?
Research in electronics over the past few decades primarily focused on rigid electronics. However, everything around us, including ourselves, is not simply rigid. I believe that soft is a future, very important trend.
In addition, my educational background was in both electrical engineering and mechanical engineering, which equipped me well for soft electronics research. These collectively lead to my research focus in soft electronics.
Why did you choose to conduct this research at Penn State specifically?
Penn State is one of the leading institutions in the world in engineering research. Its elite faculty, wonderful students, excellent facilities and all these in scale make Penn State a very unique place as [a] home for me and my research lab.
Would you encourage other researchers to make their home in Happy Valley, and why?
Penn State is extremely strong in almost all the facets [of] education and research. Centered around Penn State, Happy Valley's value, family orientation, large campus town environment [and] scenic geography have made people and their families happy.
Are you aware of ground-breaking research happening in Happy Valley that the world needs to know about? Let us know! Reach out, at cara@affinityconnection.com.