By Gatini Tinsley
Students gather at one of the many Penn State entrepreneurship workshops to compete for a chance to make their business dreams a reality. (Credit: Penn State)
In 2021, nearly 4 million undergraduates walked across the stage with their undergraduate degrees in hand in the United States. Some dreamed of becoming trailblazers, striving to become part of the 16% that label themselves U.S entrepreneurs. For those fortunate enough to be involved in the Center for Penn State Student Entrepreneurship, the likelihood of them achieving their goals is high.
A program where students build businesses before they even graduate 
The program marks one of the few in the United States that cultivates entrepreneurship skills. It has been widely successful in graduating students who have built their own businesses from the ground up. Students utilize resources that include workshops, breakout groups and competitions that result in financial awards. The award money is often then used by students to aid in financially backing their new businesses. In other words, Penn State is breaking ground with a generation of students equipped with the skills for a multitude of career fields that embody entrepreneurism.
A globally recognized new way to educate 
The program is set up in what Penn State dubs the "intercollege access model" that has been recognized globally.
Vice president for undergraduate education at Penn State, Yvonne Gaudelius, said,  "The intercollege access of Penn State's undergraduate entrepreneurship courses is uniquely recognized as an international model."
Gaudelius believes the key to the program's success can be credited to its overall accessibility. Specific majors are not required, for example, for students to access the center's resources.
"Over the last 10 years, over 19,000 students from 169 majors have enrolled in at least one course offered from the center's intercollege minor in Entrepreneurship and Innovation (ENTI). Every one of Penn State's undergraduate students from any of our campuses has access to at least three entrepreneurship courses. Undergraduate entrepreneurship is also customized at most Penn State campuses to meet the needs of local students and build networks with regional entrepreneurs and business support services," said Gaudelius.
The numbers don't lie
Associate vice president for research and director of the Office of Entrepreneurship and Commercialization, James Delattre, said the center shines in its ability to put students in positions to start businesses while still in school. Part of the benefit students get is learning the fundamentals to launch a business while they have professors to assist them each step of the way.
"Students at Penn State are uniquely positioned to learn the core principles of starting a business and what makes a startup successful in the classroom, to then head over to a LaunchBox or innovation hub to apply those lessons in building their own startup," said Delattre, "The industry knowledge brought by entrepreneurship professors and the mentorship available through the different LaunchBoxes, in combination with the funding opportunities through our various pitch competitions, really sets up our students for success in their innovative endeavors."
In 2021, Penn State reported on its initiative to help remove some of the inherent risks that come with starting a business. Students at Penn State are equipped and able to hit the ground running and increase their chances of success in a competitive business world where sharp skills translate to a scalable business – and the numbers don't lie. To date, the Center for Penn State Student Entrepreneurship has brought together 13,151 students, faculty and staff; supported 4,976 entrepreneurs; graduated 464 startups from accelerated programs and helped start 218 new Pennsylvania companies. The school has created 486 internships and 302 jobs through the center.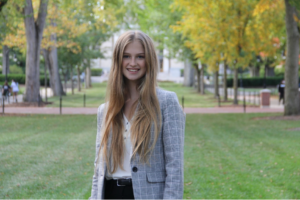 Biomedical engineering and pre-medicine student Sydney Gibbard is one of the many students taking full advantage of Penn State's entrepreneurship programming by utilizing the entrepreneurship ecosystem to leverage her nonprofit initiative, Girls Code Run The World. (Photo provided by Penn State University)    
The Center for Student Entrepreneurship in action
One example of a student entrepreneur who's passed through the center is Girls Code The World founder, Sydney Gibbard, a biomedical engineering and pre-medicine student. Girls Code The World is a domestic nonprofit corporation that provides resources, role models and opportunities in STEM-related fields for women and girls through educational programming, extended mentorships and intersectional support.
Gibbard started the nonprofit in high school with mild success but felt discouraged when she got to college due to limited resources available to continue. That's where Penn State's Center for Student Entrepreneurship was able to cultivate her entrepreneurial spirit. The program helped Gibbard leverage resources so Girls Code The World could thrive with more initiatives for girls in STEM related fields.
"Penn State has been so influential for me as far as developing my confidence, figuring out how to market myself and my business and connecting us to people in the Penn State community who want to see startups succeed," said Gibbard.
She added, "The entrepreneurship programs allowed me to boost my engagement at Penn State's entrepreneurial ecosystem and keep learning from alumni investors and seasoned entrepreneurs. More specifically, I was fortunate enough to participate and support initiatives such as Startup Week. I also used the vast number of resources and programs available, such as workshops that included the new innovation hub and the Global Entrepreneurship Week we have access to through the program."
Do you have a startup that's been impacted by the Center for Penn State Student Entrepreneurship, or Penn State in general? Tell us your story and you may be featured in an upcoming HappyValley Industry newsletter.