By Stephanie Kalina-Metzger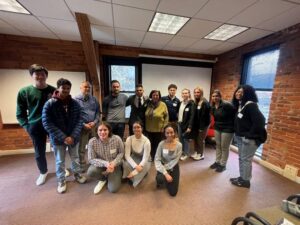 Innoblue at Project Olympus in Pittsburgh (Photo provided)
When it comes to institutes of higher learning, Innoblue is Penn State's oldest club dedicated to entrepreneurship.
Tanishq Barot, president of Innoblue, said the organization, which meets weekly, has a goal of fostering innovation among students, assisting them in honing their entrepreneurial skills and connecting them with like-minded peers. The club prides itself on being inclusive, welcoming all students who are interested, no matter what their discipline. "Our members aren't limited to one curriculum; they can study engineering, communications, science, technology, you name it," Barot said. Plus, dues are nonexistent. "We're proud of that; this way we can focus entirely on entrepreneurship," he added.
Falling in love with the mission
According to Barot, most incoming members are impressed enough to stay in the club for the entire time they're studying at Penn State. At any given week, there are about 70 members who gather at the Eric J. Barron Innovation Hub. Barot explains why he became involved in the organization: "I arrived at Penn State during the pandemic and, as a freshman, I was confused about my career choices," he said.
The Penn State student soon became acquainted with the club at the university's Fall Involvement Fair and "fell in love" with the organization's mission to promote entrepreneurship. Barot knew that connecting with like-minded individuals would enable him to take on the challenges he faced with his startup, HyTel Interactive, which specialized in designing and developing applications for small businesses. "I struggled to navigate the business obstacles until I joined the group," said Barot, adding that faculty members and alumni with multidisciplinary backgrounds help oversee the group and work together to assist when needed.
Bianca Wisekal is a member who learned about the group from her engineering professors. "I decided that I wanted to help out more, because I felt the group had so much potential," she said. One of Wisekal's responsibilities is to help plan group trips. Barot calls the excursions "Innotrips" and they are part of an initiative to expose students to entrepreneurs in different areas throughout Pennsylvania and the rest of the country.
"Next year, we are going to Altoona to the Sheetz Center for Entrepreneurial Excellence and after that we are going to New York City to meet with venture capitalists, startups and other entrepreneurial organizations," said Wisekal, adding that the club isn't just for those who want to launch their own startup, but also for those who want to play a prominent role in a company. "I want to work for a company where I have a voice and a say and I hope that the group helps me with networking towards that end," she said.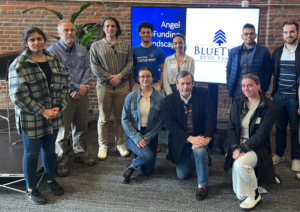 Innoblue at Pittsburgh's BlueTree Allied Angels (Photo provided)
Last year's popular pitch competition
Barot described a pitch competition the club hosted last year that was not unlike the popular television show Shark Tank, which airs on ABC. "It was held last year and allowed startups in the Penn State ecosystem to showcase their business proposals and receive aid in the form of funding and connections to help pursue their dream," said Barot. The event was presented by student-run Happy Valley Venture Capital in partnership with the Farrell Center for Corporate Innovation and Entrepreneurship and attracted a standing-room only crowd.
Among the six pitches were Table Rock Markets, which connects consumers to farms; Ballet Scout, a one-stop for ballet training, auditions, and jobs; and Limitless NIL, which assists athletes with branding.  A first prize of $10,000 was awarded to Tim Grim's Table Rock Markets.
This year's pitch-a-thon
Innoblue, in collaboration with HVVC, will host the inaugural Innoblue Startup Weekend (ISW) from Friday, Nov. 4 through Sunday, Nov. 6. Students will be able to attend virtually, or in person. During that time, Innoblue will facilitate a collaborative environment for a 48-hour "pitch-a-thon." According to Barot, students will have the ability to come together to ideate, develop, publish and pitch a business concept. They will then upload their pitches to YouTube for judging. The top five chosen teams will then give presentations for attendees to observe.
Barot said he hopes the turnout will exceed last year's event and that attendees will be as inspired as he was.
"I entered Penn State with the intention of studying planetary science and nutrition and, after joining Innoblue, I found a passion for business," he said.
Barot's current project? A housing platform to help students and tenants find reliable, convenient housing, which will include a roommate matchmaking service, the ability to communicate with landlords through the platform and more. "It's something that the State College community can certainly use and Innoblue has inspired me to do this and more during my time here at Penn State," he said.
What inspires you? Have you ever joined an organization that has helped you navigate your way into the future? If so, let us know.