By Stephanie Kalina-Metzger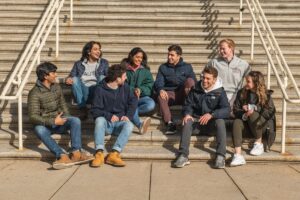 The HVVC Team. Photo: Provided.
Happy Valley Venture Capital (HVVC) describes Penn State's entrepreneurial landscape as a "crowded forest, with tall educational programs and flourishing support initiatives." The organization finds its purpose in paving the paths through that forest. Since its inception in 2017, HVVC has been bringing students together to foster entrepreneurial initiatives, educate them on best practices and help them springboard startups.
Former managing partner and current member of the organization's advisory committee, Leonardo Girlando, said that the group's focus on education has largely enabled Penn Staters to navigate the field of startups more effectively. For some, that starts with learning basic definitions, like what exactly "venture capital" is. (And, Girlando explained, "venture capital, broadly defined, is money invested into companies that have high risk and high reward.")
Growing in popularity and making an impact
HVVC is made up of various leadership teams and committees, each with their various goals in helping Penn State entrepreneurs thrive. The Startup Relations Committee connects students to resources for launching or growing their business. This includes recruiting early employees, assessing funding opportunities and recommending mentors. The Sourcing and Recruiting Committee's goal is to build relations with students and alumni involved in the venture ecosystem and developing a sustainable pipeline for students to take advantage of mentorships and career opportunities. The Due Diligence Committee maps out and screens startups while assessing investment opportunities and conducting research on technology trends.
"Helping people achieve their dreams is something that we, as an organization, are very proud of."
To keep the buzz going on campus, the Engagement Team conducts events like fireside chats featuring industry experts. The team also reaches out to a broader community with intercollegiate opportunities to integrate HVVC into the global venture network. Lastly, there's the Strategy and Operations Team, which is run like an in-house consulting firm to advise HVVC where needed.
Girlando said that the organization has grown in popularity over the years, starting with meetups, then workshops and panel discussions and finally with Shark Tank-style pitch events, which have been well attended. "Start Up Week is a huge event at Penn State, held every April and designed to bring together the best and brightest student and alumni entrepreneurs for a week-long entrepreneurship immersion," explained Girlando, adding that the pitch competition attracted a crowd of 300 this year, with six people pitching. "So far, we've conducted five pitch competitions," he said.
Managing partner Andrew Ciotto explained the basics of the pitch competition. "Students compete for $25,000 in monetary prizes, while having the opportunity for feedback and networking with judges and attendees from a range of entrepreneurial backgrounds." He further explained that HVVC's job is to winnow the pitch candidates down to just ix. "This year, 30 startups applied," he said.
Among this year's top finalists were an app called Parentiv, for parents of special needs children; The Ballet Scout, which provides a one-stop online shop for ballet training, auditions and jobs; and Unbaked Flour, which sells and promotes healthy snacks.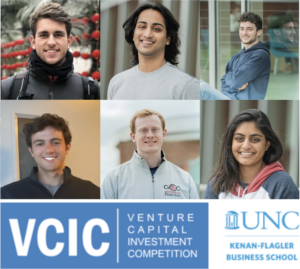 Team Members (In order Left-Right, Top-Bottom): Leonardo Girlando, Aryaman Bhardwaj, James Shryock, Andrew Ciotto, Dylan Benson, and Nandini Patel. Photo: Provided.
Stretching success
One of the more prominent success stories born of HVVC support is Xeal Energy, which touts itself as a provider of one of the most advanced electric vehicle charging stations designed for multi-family apartments and businesses. Founded in 2019 by Alexander Isaacson and Nikhil Bharadwaj, former co-founders of HVVC, the company recently raised $11 million to expand their digital token payment system for their chargers.
Another success story is State College-based Limitless NIL. Founded in April by Penn State quarterback Sean Clifford, Limitless NIL went on to pitch to investors after gaining an impressive amount of press for the company's release and finishing runner-up in this year's HVVC Pitch Competition.
Extending beyond Penn State
HVVC is enjoying the good reputation it has earned outside of Penn State over the years as well. "We hosted a national initiative recently called the Undergraduate Venture Summit where 23 universities participated. The two-day event attracted 450 registrants," said Girlando.
However, HVVC said the team understands that success isn't always achieved by just jumping into the entrepreneurial fray. It's important that students understand the mechanics of such an endeavor first, and this led to the creation of the Venture Fellows Program.
Run by HVVC Partner Abhiram Kotireddy, the program is designed to help students understand the brass tacks of venture capitalism, from learning the definition of the term, to understanding what a startup is, what ownership structure looks like, the finances of a startup and the mechanics of a pitch.
"We think that the Venture Fellows Program will help students who are interested in startups to gain the knowledge that they need to apply it to their own ventures, or to seek fellowships and internships," said Ciotto, adding that they want the HVVC program to be a holistic one.
"All of these pieces build upon each other to give Penn State students the essential knowledge they need to take their dreams of entrepreneurship to the next level. Helping people achieve their dreams is something that we, as an organization, are very proud of," Ciotto said.