By Staff Writer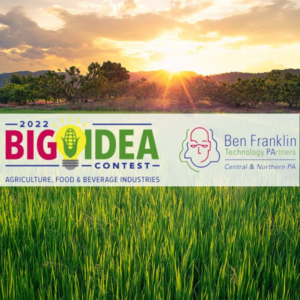 Do you have a startup concept revolving around agriculture, food or beverages? Ben Franklin Technology Partners' BIG IDEA contests have awarded over $2 million in cash prizes to startups in central and northern Pennsylvania, and the newest BIG IDEA contest is focused on innovators who are developing new products or processes in the agriculture and food and beverage industries.
Fields of interest (pun absolutely intended) could include drone or smart farming, soil and crop health, pest management, AG machinery and automation, robotic solutions, sensor applications, supply chain, energy, food/juice/beverage production or even dairy management, to name just a few.
Winning the grand prize of up to $25,000 goes a long way in helping further develop your BIG IDEA and grow your AG-based or food/beverage startup with some much-needed seed funding. Past contestants say the pitch experience, business training and valuable networking that's gained along the way is even more valuable than the prize money.
If you have not previously received funding from Ben Franklin or won a cash prize in an earlier contest, visit BIGIDEA.BenFranklin.org for contest rules, FAQs and to check out the application process.
Apply today and you could win:
- Up to $25,000 in cash
- An opportunity to pitch the business concept for a $10,000 seed grant
- A guaranteed spot in a business accelerator program
- Business mentoring + support from Ben Franklin
- A six-month, free subscription to Sparktoro.com
The deadline for entries is Aug. 29, 2022.