By Beverly Molnar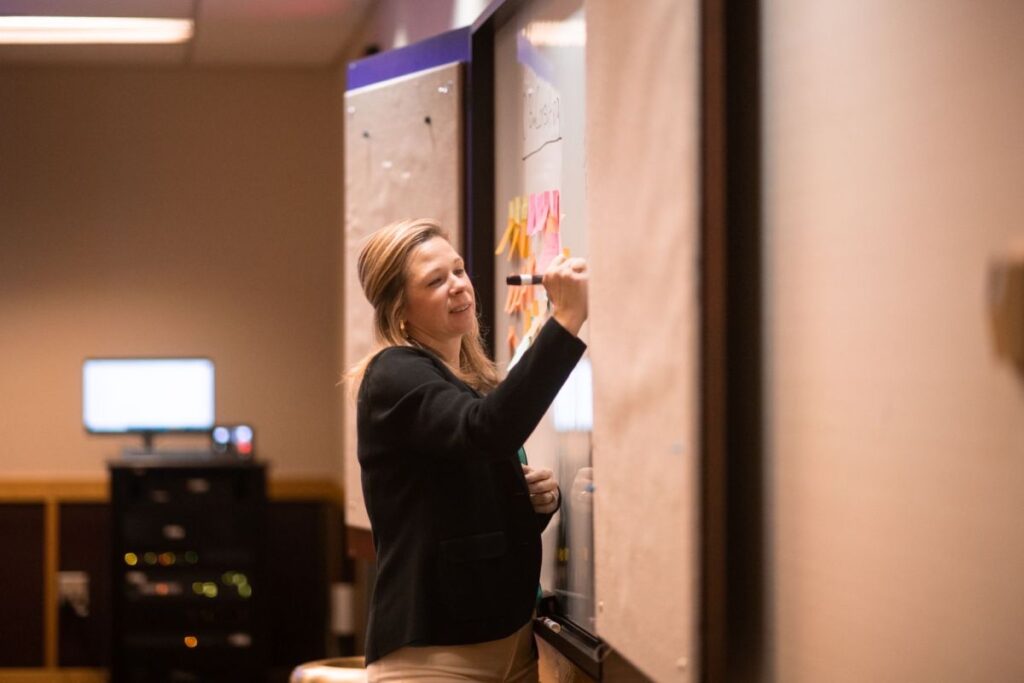 Photo Provided.
Penn State recently appointed Elizabeth Hay the Jack White Family Director of Happy Valley LaunchBox powered by PNC Bank. In this role, Hay will help student, community and faculty/staff startup founders to de-risk and grow their businesses. She'll run accelerator programs, provide advice on turning ideas into businesses and teach workshops on entrepreneurial thinking.
Previously, Hay was a business consultant for the Penn State Small Business Development Center for more than two years. She has more than 15 years of experience as an entrepreneur and consultant with small-business owners. In 2012, Hay co-founded TechKnowServ Corp., which offers traditional nondestructive testing and advanced long-range ultrasound and acoustic emission inspection products and services for the railroad, petrochemical, oil and natural gas, defense, aerospace, power generation and marine industries.
In 2021, Hay was recognized as the 2021 Pennsylvania Small Business Development Center (PASBC) "State Star." The highest honor given throughout the PASBC network, this award goes to a business consultant who has demonstrated outstanding performance and client satisfaction.
We spoke with Hay recently about how she ended up in Happy Valley, what she plans to do in her role and what she feels are the foundations of business success.
What brought you to Happy Valley? What sets this area apart?
My husband was wrapping up his PhD here and had a job opportunity that allowed us to stay here. About a year later, we decided to become entrepreneurs based on some Small Business Innovation Research money he was awarded.
Fresh out of college, we did set our eyes on bigger cities — Tampa, Montreal, New York — but settling here turned out to be the best decision. The resources for building a business, raising a family and living a well-balanced life are all here. In Happy Valley, you are not fighting for opportunity; you are living alongside driven people who genuinely care about the impact they make in the community and their industries.
How did you decide to pursue this direction for your career? What do you find rewarding about it? What is most challenging about it?
I have opened several businesses in the past 18 years since settling here. In 2011, I joined the Women's Networking Group (WiNGs) and quickly became president. As part of my role, I would build educational programming for the women entrepreneurs in the group. I realized that, when given the tools, the women in this community do amazing things, are incredibly smart and have passion for the impact they make with their ideas. This is when I started to shift my focus from building my own businesses to helping others build theirs. I still help run my business, but the decision to step aside and pour into the community has been incredibly rewarding.
"In Happy Valley, you are not fighting for opportunity; you are living alongside driven people who genuinely care about the impact they make in the community and their industries."
The biggest challenge has been breaking down barriers. From groups and organizations to entrepreneurs, we are stronger together. If we don't know the problems that need to be solved, we can't seek and build the resources to help solve them. Similarly, if we are not talking to one another, we could all be wasting effort trying to solve the same problem. The key is to ask questions, seek resources and build partnerships.
What are your goals for the position? What do you envision accomplishing in the next five years?
I am a dreamer. I serve both the students and the community, and the new Eric J. Barron Innovation Hub is the perfect place to bridge that gap. I want Happy Valley LaunchBox to be the place to hang out for entrepreneurial-minded people from diverse backgrounds and industries; this means people with ideas can come alongside well-established business owners and sort of "geek out" on the lifestyle of entrepreneurship together. I hope by doing this we can establish more businesses — specifically women- and minority-owned businesses — and inspire students to explore and test ideas and build business models around solving real problems.
What values do you believe form the foundation of a successful business enterprise?
As an entrepreneur, I know how easy it is to believe we have all the answers, but building a business in a silo will not work. The foundation for success is a voracious appetite for learning and the leveraging of resources and mentors, especially in the early stages. It's fine if you don't take advantage of partnerships, development programs and consulting, but your competition probably is. Whether it is extra knowledge, funding or building relationships, the biggest competitive advantage is admitting you don't have all the answers and taking the steps to find those answers and move the needle forward every single day.
Who or what helps to keep you motivated when you face setbacks or roadblocks, for either yourself or the businesses you are helping to launch?
One of the biggest challenges in my new role is trying to teach that failure is a learning opportunity. If we are scared of failure we tend to not try new things, and entrepreneurship is built on new ideas that solve problems. We have been conditioned, through traditional education and our culture, to believe failure is bad. Setbacks and roadblocks are a chance to learn. The startup community has a saying: "Fail fast." I truly believe that 99% of the time, trying and failing is better than not trying.