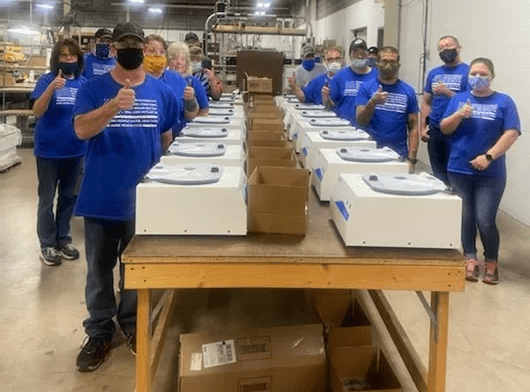 If you've ever had your blood tested, it was likely processed in a centrifuge made by Happy Valley's Drucker Diagnostics. After years of steady growth, the global leader in clinical laboratory centrifuges Drucker recently celebrated a big milestone: the opening of a new production line.  
As healthcare needs have increased, Drucker's centrifuges are in demand. President Tom Mallison said the new line will support the hospitals, doctors and labs that rely on the product. "They need our products to help diagnose and treat their patients," he said. 
Drucker's new production line will be located at its manufacturing facility in Philipsburg and is dedicated to producing the company's newest centrifuge. With the new line, several new jobs in will be added.  
"Our team is amazing. It's their innovation and hard work that let us grow as quickly as we have," Mallison said.                                                                                                                              
As Drucker Diagnostics looks ahead, the future looks bright. "We're going to keep building our team. We're going to keep building world-class centrifuges. And we're going to keep living our mission, making people safer, healthier and more productive. 
About Drucker Diagnostics 
Drucker Diagnostics makes people safer, healthier and more productive as the world's leader in clinical lab centrifuges. Drucker's wide range centrifuges help patients in hospitals, clinics, labs and physician offices in more than 80 countries. With facilities in Port Matilda and Philipsburg, Pennsylvania, Drucker is proud to be a world-class company in Happy Valley.