The NCAA's new policy for Name, Image and Likeness—which allows student-athletes to earn income for their personal brands and talents—is disrupting college athletics. How important is it for Penn State to play the NIL game? Who is driving the bus on answering the key strategic questions before all the tactics start flying around?
Before the Supreme Court's unanimous decision in the NCAA v. Alston case on June 21, 2021, college athletes were forbidden to profit from their celebrity status. The court determined that the NCAA was violating antitrust law and opened up ways for student-athletes to be compensated. 
Imagine being a high school lineman and learning about Horns with Heart, an NIL initiative started by lifelong Texas Longhorns supporter Rob Blair. The program will sponsor every offensive lineman on scholarship at Texas with $50,000 per year for using their name, image and likeness to raise awareness for worthy community causes. Dubbed 'The Pancake Factory,' the initiative was announced as "the first of its kind to support a football position group to participate in charitable endeavors that impact both the University of Texas as well as the community at large."
Already, thousands of athletes are earning a little extra spending money sharing their skills at sports clinics or giving private training. Marshall University offensive lineman Will Ulmer, also an accomplished country music singer/songwriter, can finally book paid gigs under his own name rather than his pseudonym "Lucky Bill."
But the spotlight has been on the big deals (or alleged big deals) happening in the money-makers, football and basketball. For example, although Deion Sanders has gone on record to shut them down, rumors circulated that Travis Hunter's stunning switch from Florida State to Jackson State was spurred by a $1.5 million NIL deal with Barstool Sports. The allegation doesn't seem unfathomable when you consider other reports that Texas A&M's boosters pooled $30 million to land the country's top recruiting class for 2022. Another group called the "Clark Field Collective" raised $10 million from alumni and local business leaders to distribute in NIL deals specifically to University of Texas athletes.
What about Penn State?
How much will Penn State's NIL strategy impact Happy Valley's economy, which relies heavily on football weekend visitors and their wallets? Hotels had a record September in 2021, even against pre-COVID numbers, thanks to a heavy and exciting home game schedule that included Auburn and a visit from College Game Day, not to mention the beginning of  a 5-0 winning streak. Is NIL essential to filling tailgate lots, Beaver Stadium, Rec Hall and the Jordan Center, and the area's hotels, restaurants and bars? Is it important to keeping applications rolling in from out of state and international students lured by the high-visibility Penn State brand? 
The Happy Valley Adventure Bureau, in a partnership with the CBICC and lots of other local organizations, launched Happy Valley Talent to connect athletes with local businesses for NIL deals. Is Happy Valley's business community positioned to invest big money into NIL? How many local business owners believe that an endorsement from a Penn State athlete will grow their business? Hotels, a market that has a lot to lose, might consider suggesting that the HVAB designate 1% of the 5% hotel tax revenue it earns to an NIL deal for student-athletes.  
Maybe these companies who are listed on the Penn State's 2019 990 tax return choose, as a cost of business, to set aside 2% of their bids to support NIL. Maybe Nike starts to support schools who have exclusive deals with them to pay the players who are forced to wear their logo on their shirt? We all remember when Pepsi signed an exclusive deal with Penn State. 
How do the Penn State stakeholders view NIL? Alumni, students, faculty, the board of trustees, big donors? Is there a Texas A&M-type of play in the works? The history of Penn State athletics, and especially of the football program, could add a unique level of complexity to how these groups approach the idea.   
"We're supposed to be in the business of helping young kids develop educationally, emotionally, socially, and that they get what they need out of college. They're not here to fill our stadiums for us," Joe Paterno famously said. Will the largest dues paying Alumni Association in the world start pooling their money?  
Can Penn State sell "success with honor" in today's recruiting landscape?
There are 1,093,234 high school football players in the United States, and 6.5% of those high school players (or 71,060) will play for the NCAA in college. The drop-off from college to the professional level is more dramatic: only 1.6% of college-level players will get drafted into the NFL. 
Penn State has vast assets in higher learning AND a fixation on graduation rates for athletes–historically, big selling points for students (and their parents) who aren't relying exclusively on professional sports careers.  Is there a place for student-first college players anymore?    
What is the essence of the Penn State Football brand in 2022? Brent Pry's first press conference as the new head coach of Virginia Tech might give a little inside insight into its current "sales pitch" to parents and "students" who happen to play football.
"James and I talk a lot about people saying how tough it was to go to Vanderbilt, which had been to four bowl games in their history, and we went to three straight. The challenge at Penn State was greater — the ability to embrace the past and the difficulties that Penn State went through...and move forward — particularly with a forward-thinking head coach that, from a recruiting standpoint, wanted some glitz and some glamor and the things that these guys are looking for."
With many fans, past players and bid donors still tied closely to the legacy Joe Paterno established, Franklin and Pry had to help to move the program in the direction of a new generation of recruits.
Do you remember 2002, Penn State finished the season with a 3-9 record, 1-7 in the Big Ten, Paterno's worst ever at Penn State? It was the third losing season in the past four, and only Paterno's fourth losing season since joining the coaching staff in 1950. Nine losses were the most ever for a Penn State team, breaking the record set by the 1931 2-8 team. The season ended without any wins in road games, which hadn't occurred since 1936.
Despite the losing record, Penn State claimed second place in football attendance for the third consecutive season, averaging 105,629 through seven home games, ranking in the top four for the 13th consecutive year. The Ohio State game drew Penn State's largest home crowd of 108,276, the seventh largest crowd ever in Beaver Stadium. 
Do these types of statistics prove that Penn State football doesn't need major NIL deals to keep fans in the stands?  Could it be that fans will celebrate the student-athlete and the aspirational and relatable brand of Penn State, along with the fabulous Blue Band and a chance to tailgate with friends?  Will big NIL deals shape the culture into something vastly different than it has been?  Will Penn State be loaded with 5-star athletes who opt out of their junior year to wait for the NFL combine like Michal Parsons recently did to glorious success in the NFL?
It doesn't have to be either/or
They say the sucker's choice is when you reduce a decision down to EITHER/OR. The real magic is in choosing AND. The truly great brands never sell out. Instead, they stand for something and prove they don't fall for anything. 
Here's part of the speech that Joe Paterno gave to the Board of Trustees when Penn State won the National Championship in 1982: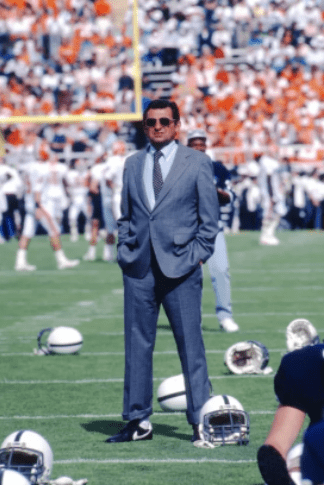 "You know, obviously, all of us are disappointed in the newspaper reports that some of our academic departments are not rated very high. That bothers me. It bothers me to see Penn State football be Number One and then to pick up a newspaper several weeks later and we find we don't have many of our disciplines rated up there with the other institutions in the country…"
"There has never been a time when Penn State has been more united or proud. Now maybe it's unfortunate that it takes a Number One football team to do that. I don't think we can lose the opportunities that this moment presents to us, and I don't mean in athletics. I'm not even concerned about the athletic aspects of where we are, I think we can handle that and make sure that we can maintain the kind of teams that you people like to see and you can be proud of and identify with the type of students and the type of football players we get…"
"I talk to you as somebody I think who knows a little bit about what's going on. Who has recruited against Michigan, Stanford, UCLA, who has recruited against Notre Dame, Princeton, Yale, and Harvard and who has had to identify some things that they have that are better than we have and has had to identify some of our problems. We need chairs. We need money so that we can get some stars. We need scholarship money. We need scholarship money to get scholars who can be with the stars so that the stars will come in and have some people around that can stimulate them and they can be stimulated by the stars. We need a better library–better libraries would be a better way to put it–so that the stars and the scholars have the tools to realize their potential. We need an environment of dissent and freedom of speech and freedom to express new and controversial ideas…"
"I think we are looking for the soul of this institution. The soul may be an overstatement, but I'm not sure I'm overstating the case. I think we're literally looking for a soul. Who we are, what we are, and I think that basically comes down to soul. We need to find our soul. We need vibrant, aggressive, brilliant teachers and scholars…"
Will Penn State stakeholders pool $30 million to buy the 25 5-star athletes and pay them $50,000 a year or even more in this arms race? I'm not sure the Waffle Shop can step up to that (though judging by the lines and price of an omelet and home fries, maybe). What I can foresee is Penn Staters chipping in for recruits who want to come to Happy Valley for the education and the chance to play competitively, to win National Championships with the incentive of a Penn State degree, even if it's earned after a stint in the NFL.
I believe there is a market out there for players like Shane Conlan, Todd Blackledge, Curt Warner, Saquon Barkley, Trace McSorley, Sean Clifford and Jahan Dotson, along with so many other lettermen who have made us Penn State proud. Penn State has a prestigious product and the greatest show in college football. It's an attractive destination for the right athletes. Businesses and alumni will fund NIL if the core values are clear and true to the brand identity.
Finally, here's a tip: if you're looking to invest in Penn State values, check out Penn State's rock solid wrestling program. NIL opportunities with those athletes could get you the best bang for your buck. 
What do you think?  NIL is new and this is NOT a scholarly deep dive on the topic. Penn State has some clear rules and regulations and please consult them for how to play this game. I'm interested in different opinions about what Penn State Athletics looks like in an NIL world. Not just football, either. Wrestling, women's volleyball, hockey… add your two cents or better yet toss some money at some hard working student athletes who represent Penn State.