By Cara Aungst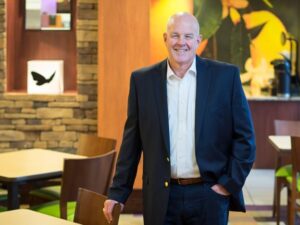 Shaner Corp CEO Lance Shaner credits the company's core values of rewarding success and operating with integrity for its 400% growth over the past three years. Photo: Provided.
Thirty years ago, Lance Shaner and his brother Fred were looking for a new home for their progressive hospitality business. They explored Atlanta, Durham, Chapel Hill and Austin, but it was Happy Valley that caught their eye. "It was hard to beat the quality of life that we saw here," Lance said.
Shaner Corp made the move from Bolivar, New York, to State College in 1993 and, over the next three decades, has rapidly grown and diversified. HappyValley Industry sat down with Lance Shaner to talk about how the hospitality business is rebounding post-pandemic, how Shaner's company culture fuels growth and why the company chose to base operations in Happy Valley.
Can you tell me about Shaner's growth over the past several years?
We've had tremendous growth over the past three years — more than 400%. We decided to integrate horizontally, expanding into energy, water treatment, pipeline and trucking.
All of these have seen growth over this past year — and our hotel sales have doubled in the past year as well. People are ready to get out and travel. Things are becoming more comfortable, and they are anxious to get out, stay at resorts and be on the water.
Thirty years ago, we chose to move the company here after comparing the area to other centers of industry.
What sets you apart from your competitors?
We set goals collaboratively as a company. We communicate with associates, work together on setting up budgets and offer in-depth bonus programs. The company is totally transparent, and profitability equals growth. It makes our associates feel like partners.
In your core values, you attribute Shaner's success to a conservative investment strategy focused on long-term profitability, a dedication to meeting the needs of customers and the resourcefulness of your company's associates. How does this frame decisions, strategy and outcomes for Shaner?
To be successful, Shaner needs to determine the needs of our customers. How can we make their lives better? Our second phase is our associates, making sure that they know the vision and how to achieve goals. Do they have the tools that they need for success? Do they know the joint goals that the entire company is focusing on? That frames all of our decisions.
We have done company-wide surveys every year, for years. We ask all associates what they like and what could improve. And then we really study the results. Over 90% is positive, and we prioritize feedback on the other 10%.
As a founder at Shaner, what's important to you about your company's culture?
It's important to reward success and operate with integrity.
Why Happy Valley? What are the benefits of existing here in the Happy Valley ecosystem?
Thirty years ago, we chose to move the company here after comparing the area to other centers of industry. There was the Penn State experience, energy from a young population and a lot of technological advances being made because of the resources that are here. All of that, and you can drive five miles to see beautiful farms. That's a pretty unique thing to find. It's a great synergy.