By Sean Yoder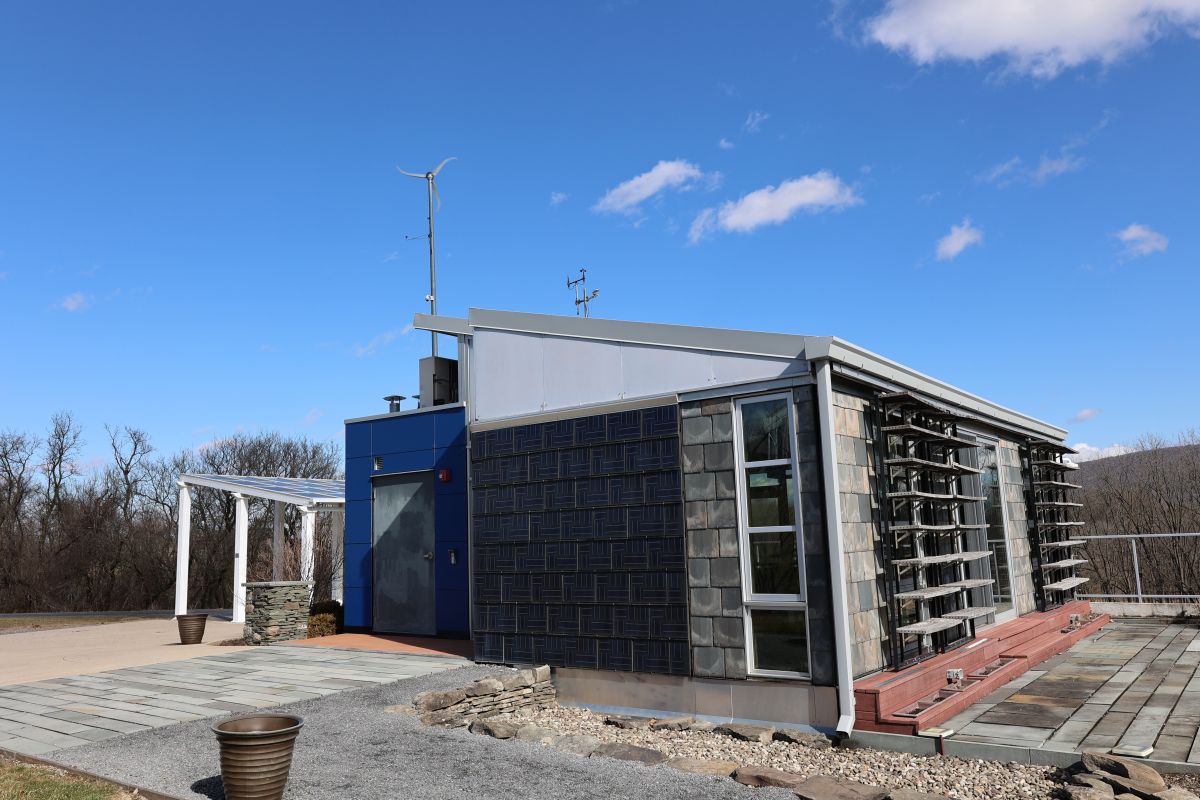 The MorningStar Solar Home is one of the features of the Sustainability Experience Center at the Penn State University Park campus. Photo Credit: Sean Yoder.
Penn State recently ranked first among its Big Ten peers (and No. 6 among public universities in the U.S. and No. 14 among all universities in the U.S.) in the QS World University: Sustainability rankings, an assessment that looks at universities' combined environmental and social impacts. The assessment is the first of its kind, according to Lara Fowler, interim chief sustainability officer and interim director of Penn State's Sustainability Institute.
"We were pleased when Penn State made the list," Fowler said. "We've been working on sustainability for 20, 25 years and more cohesively in the last decade."
While many people equate environmentalism with sustainability, it's actually only one facet of the sustainability equation. Penn State's Sustainability Institute aims to create a holistic approach to human health, economy and happiness. Its vision includes ending poverty, creating a dynamic community infrastructure and addressing environmental justice.
Launched in the 2012-2013 academic year, the Sustainability Institute was established to engage in new research and projects and support the work that was already being done across Penn State. There are now 29 sustainability councils at colleges, campuses and units at the university. It is up to these councils to find and implement sustainability initiatives within their respective domains. For facilities managers, that could mean rethinking HVAC use for buildings and rooms that are empty for parts of the day. Academic units might incorporate sustainability education into their coursework. Hiring committees can implement equitable practices for candidate searches. The possibilities are truly endless.
Fowler highlighted the university's agreement with flooring company Tarkett. Instead of landfilling old carpet, Tarkett recycles that material into the circular economy and provides Penn State a rebate. The company has also committed to using good quality materials and creating healthy indoor air quality.
A core mission, all the way to the top
Prior to about 2000, Fowler said sustainability at Penn State was driven more by compliance with federal laws and guidelines. Since then, the approach has become much more systematic, with support from leadership all the way up to the president's office.
On Feb. 6, Penn State President Neeli Bendapudi announced the university would move forward with several recommendations made last year by the Carbon Emissions Reduction Task Force. The university reported it is currently studying how to downsize and electrify its vehicle fleet, target energy inefficiencies with lighting and HVAC, explore carbon offsets, duplicate the Nittany Solar Project in Franklin County and expand the Sustainable Labs program.
"If done correctly, sustainability can help you reduce cost and reduce risk."
Beyond energy consumption and emissions, the university also works to move the needle on individual action and education, forming governance groups throughout its colleges, campuses and units; developing sustainability-related courses; and supporting programs such as the Student Farm, Shaver's Creek Environmental Center and the Sustainable Communities Collaborative.
Fowler said that overall, sustainability has gone from a model of compliance and merely a nice thing to do, to one that is becoming a core part of the mission of Penn State and its partners.
A business case for sustainability
Penn State has also made sustainability a business issue. At the Smeal College of Business, leaders are working to incorporate sustainability into the curriculum and culture. The Major Sustainability platform launched last year with the cooperation of 30 faculty from all departments within the college and lays out how each business major can contribute to sustainability. For example, finance professionals can advance sustainability by incorporating environmental, social and governance factors into investment decisions. Those working in supply chain and information systems can work to maximize efficiency and responsibility and reduce waste. Risk management professionals can consider how to minimize social and environmental risk while promoting resiliency.
Erik Foley, director of the Center for the Business of Sustainability in the Smeal College of Business, said the Major Sustainability project was the product of a simple question with a devilishly hard answer: What skills and concepts related to sustainability should be taught to business students?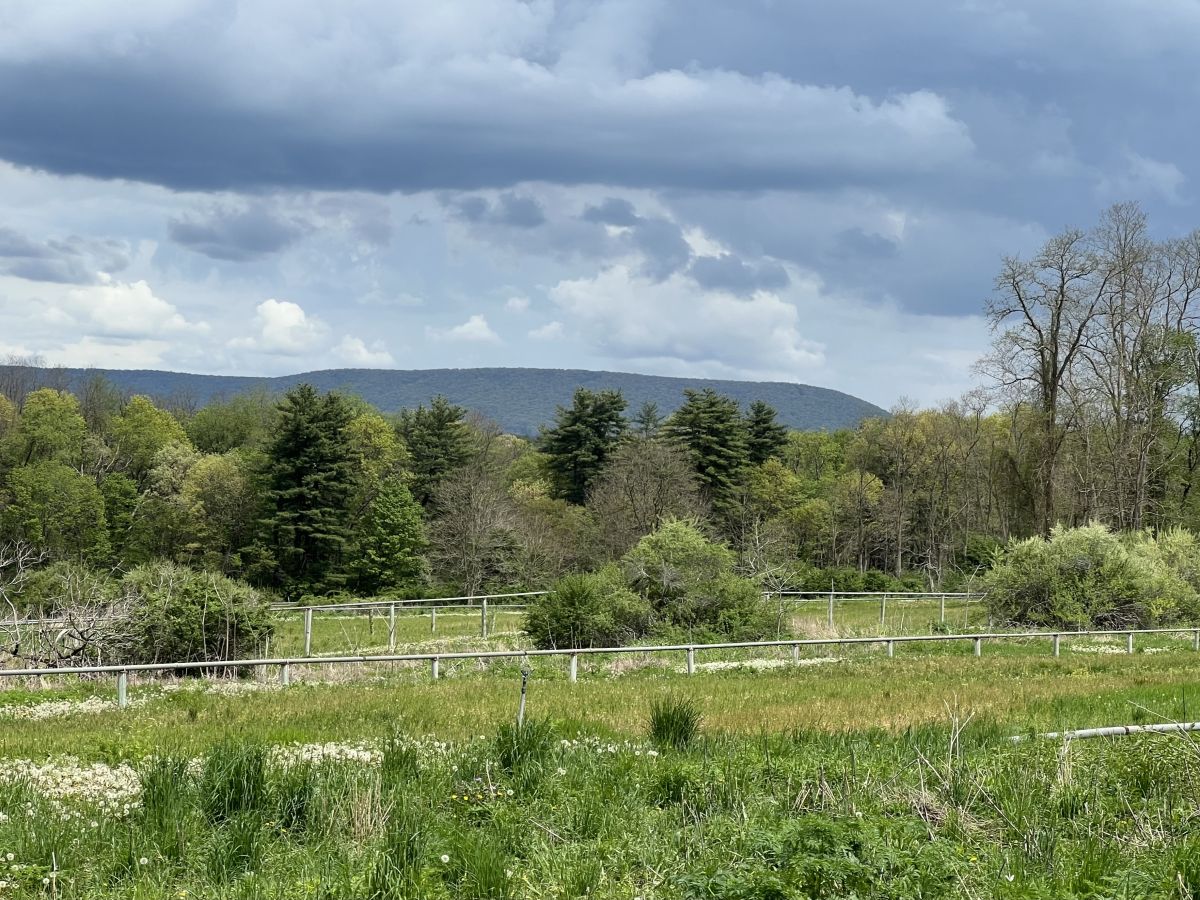 The Living Filter features 50 miles of piping across its 600 acres to discharge treated wastewater on field and forest. Photo Credit: Sean Yoder.
"We realized on the educational side, we're not doing anything else [with sustainability] until we answer that question," Foley said.
Faculty and staff then had the epiphany to break down the role of sustainability for each major, and do it in an approachable way in plain language. The response has been positive, Foley said, both for students and professionals who are using the guidelines to steer their decision making.
Despite positive response, though, Foley admits that the efforts do come with their challenges. He said, "It's a generational challenge, of how the heck do we figure out how to have a prosperous economy that supports our life support system? That's a real, real challenge."
Foley said he sees business and capitalism as a vehicle for positive change, even if there is a long way to go. There is both a business case to be made in investing in sustainability, as well as an ethical one.
"If done correctly, sustainability can help you reduce cost and reduce risk," he said.
When a business truly and ethically engages in sustainability, he said, it "allows you to attract employees, attract investors and attract customers. That's what I mean by building long-term value."
He added, "I'll often say to businesses, as well as my students, 'It doesn't matter what you call this thing, there is a very simple reality that we face, which is [that] we now have 8 billion people ... We have a planet with a limited ability to metabolize and process all of our waste.' … Right now, every environmental indicator is that we are moving in the wrong direction."
The Center for the Business of Sustainability is always looking for corporate collaboration and sponsorship. Many students at the college engage in student consulting projects, with recent work done with companies like Philips, Verizon, Perdue Farms and local companies such as Good Day Cafe. Foley said they also connect companies to faculty researchers.
This spring, the 2023 Undergraduate Sustainable Case Competition will feature 19 teams from five Penn State campuses and other universities. The focus will be on food insecurity for college students, and Foley said this will give students an opportunity to learn how to advance social justice. The finals will be held at the University Park campus on March 31.