Instead of just adapting, these local companies are leading a revolution
Over the past few months, change, like the old saying goes, has been the only constant. Industry and tech companies have seen their business flex and evolve as the entire world has shifted to address the coronavirus pandemic. Every business has adapted, both to ever-changing regulations, as well as to market needs. But only a select few have actually thrived. 
The changemakers who are thriving all have something in common. Instead of just steadying their ship in the middle of this sea of change, they are creating a revolution within their industry. 
Take Elon Musk, for example. In a time when manufacturers are shuttering, Tesla's stock has rocketed 300% from last year, making Musk worth more than Warren Buffett. 
And HappyValley Industry 4.0 companies are leading their own revolutions, helping our essential manufacturers and front-line heroes keep America running. 
Equipping first responders with face shields
Before the pandemic, Bellefonte company Actuated Medical made state-of-the-art, minimally invasive instruments for surgical procedures. In these last few months, they've pivoted to focus their expertise on creating sturdy, breathable face shields that are being used by first responders, teachers, athletes and even nursing home residents. 
"While the pandemic is not good, our pivot in response to it has made a positive impact on our company and employees," says Maureen Mulvihill, president and CEO of Actuated Medical. "We've all kept working full time, and even hired on additional team members to help manufacture the face shields." 
So far, the company has made 40,000 regular shields, along with a model for children, one that is specially made for hard hats and a popular version that attaches to football helmets. 
The company has been recognized for its work to equip first responders. It was recently voted as a finalist in the WBENC Pitch Showcase, which focused on women-owned businesses that have successfully pivoted during the pandemic. More than 100 businesses applied and just 13 made the finals. 
Providing free sensors for life-sustaining industries
State College-based KCF Technologies has been solving complex industry problems with smarts, grit and drive for 20 years, so when COVID-19 hit, the KCF team used that same formula to fight back and help their customers not only succeed, but thrive. 
Finding that there were fewer workers in the plants and machines operating under unusual conditions, they knew that KCF could fill a critical need at a crucial time. "Our mission is to transform American industry," says KCF Technologies CEO and PSU alumni Jeremy Frank. "And the criticality of that mission is more essential than ever." 
KCF is offering 60 days of free sensors and machine health monitoring services to life-sustaining industries, allowing paper product manufacturers, pharmaceutical manufacturers, power plants, steel producers, wastewater treatment facilities and others to remotely monitor their most critical machines from afar.
So far, 14 manufacturing companies have received KCF Technologies' free sensors to monitor their machines from a distance. In addition to the free hardware, they are also benefiting from KCF Sentry engineers, who monitor machine data 24/7, preventing dangerous and costly failures. In March, a sentry manager helped a pet food manufacturer prevent a $3 million failure on a machine that cooks pet food. If the machine had failed, it would have caused three shifts worth of downtime to repair and clean up the damage. Instead, the company was able to simply lubricate the machine's chains and return it to a healthy state. 
Distributing 25,000 hospital beds to front-line hospitals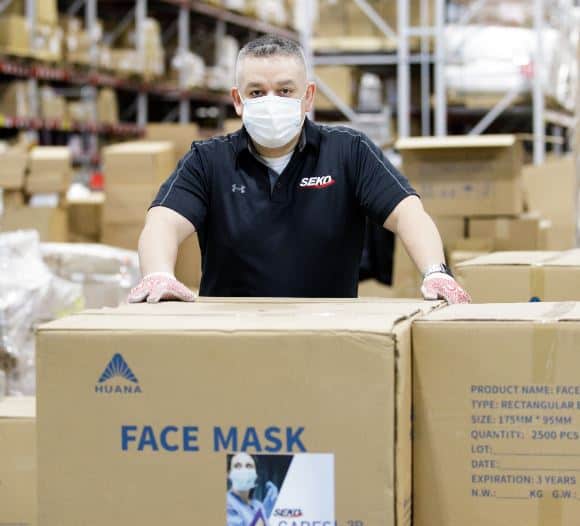 When the pandemic first swept the United States, overflowing ICUs and bed shortages in hotspots strained the country's already exhausted front-line responders. SEKO Logistics, an omni-channel supply chain company, knew that they could make a difference. They partnered with a long-term client to build a low-cost, readily-available hospital bed to quickly serve those on the front lines. 
Within just seven days, they'd designed and sourced a solution that allowed emergency responders and caregivers to move and position patients efficiently. And with SEKO's fast, reliable logistics solutions, they could take care of effective distribution.
During Phase One, SEKO Logistics handled approximately 35,000 beds, supporting the emergency need for hospital bed distribution as the COVID-19 pandemic overwhelmed the United States. They are now in Phase Two, managing ongoing storage for an additional 25,000 beds allocated for the support of specific hospital systems. 
Leading the next phase of change
As the effects of the pandemic continue to change the world as we know it, this industrial revolution is far from over. Read about the latest news from Happy Valley's industry 4.0 changemakers by signing up for the quick read newsletter here.