By Cara Aungst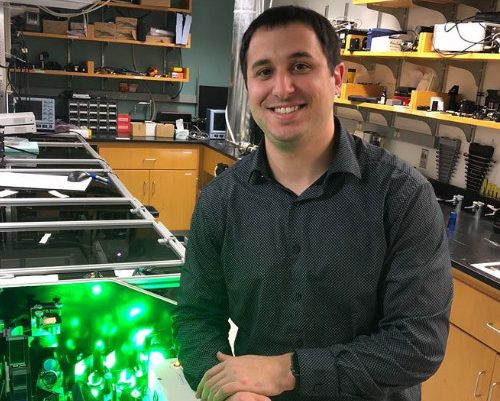 Magnitude Instruments founder Eric Kennehan. Photo: Provided.
A few years ago, before Magnitude Instruments was formed, a renowned professor at a major research university published an article decrying the use of transient absorption spectroscopy (TAS) in research. The professor concluded that transient absorption, which generally used very high-intensity lasers to record chemical reactions on billionths of a second timescale or faster, created unrealistic conditions for the samples leading to inaccurate results. Besides this, the technique was also complicated, expensive, and time-intensive, leading to the verdict that TAS was an unsuitable technique for widespread application.
However, that was before he put one of the benchtop spectrometers from Happy Valley-based Magnitude Instruments to the test.
"Once we got one of our TA spectrometers in front of him, he changed his mind within minutes," Magnitude Instruments founder Eric Kennehan said. "He saw that our instruments were more capable and easier-to-use than anything he'd ever had access to in spectroscopy and discovered that our instruments can in fact provide fast, accurate, and reliable data."
Better, faster, simpler: Changing how research is performed
This example is just one of many researchers who have been stunned by the capabilities of Magnitude Instruments transformative technology and who have been surprised to learn that they can now perform TAS themselves.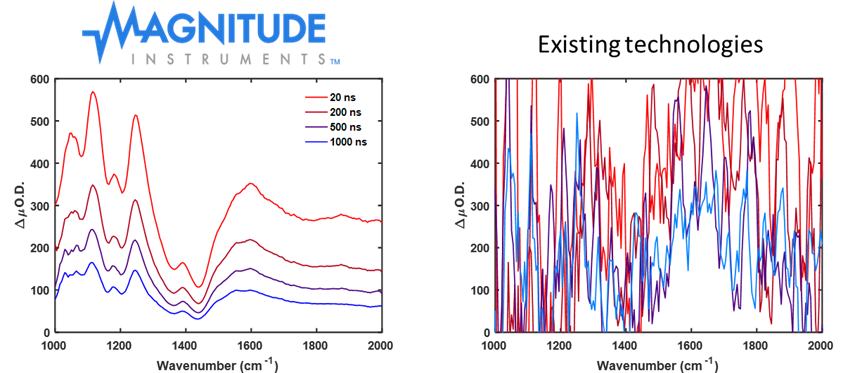 "The instruments that we offer are between 100-1,000-fold more sensitive than any other technology," Kennehan said. "Additionally, we have reduced the amount of time needed to measure a sample from multiple hours to minutes. This means that TAS can be used to solve exciting new problems at the forefront of technological discoveries that have previously been impossible."
Not only is the technology light years ahead of the competition, but the turnkey design of the system makes it accessible to more researchers than ever before, spanning areas of research such as materials science, renewable energy, electronic devices, sensors, and medicine.
"One recent customer of ours has a background in synthetic chemistry," he added "She makes materials – she has not had the extensive spectroscopy training that has been needed to perform TA experiments in the past. With our systems, however, she's able to make measurements that experts who have dedicated their career to spectroscopy can't make. Without the improvements in ease of use, she would not be able to make her own measurements and would need to send samples away to another lab and wait for weeks or months to get the results. A very inefficient process."
Equipping research advancement in renewable energy, medicine and more.
Over the past 12 months, Magnitude Instruments spectrometers have made their way across the country and around the globe – landing recently in Asia and Australia. Furthermore, a new compact, low-cost spectrometer released earlier in the year has enabled access to TA spectroscopy by teaching labs and Magnitude has multiple units on their way to help educate future scientists of the world.
"We had our best sales year in 2022 and we've just come off our best sales quarter," Kennehan said. "It has been an exciting challenge for us to scale up production with our growing team to keep up with demand for our products."
He said the boost in orders is in part to being able to meet with prospective customers again face-to-face to demonstrate the high-powered results in person. "The early adopters of our technology have been feverishly publishing articles in the scientific literature and have been spreading the word to their peers about how game-changing the technology is," he said. "The results speak for themselves. Many of the sales that we've had this year were from word-of mouth recommendations."
And those sales, Kennehan says, are great news for research advancement!
"Transient absorption is enabling important research that was previously difficult or impossible to do," he said. "It is being used to study materials for higher efficiency solar cells and conversion of sunlight into fuels for sustainable energy. Scientists can quickly measure many properties of semiconductor devices along with developing higher performance materials to be used in electronic devices. Medical researchers are learning about the processes of targeted drug delivery while developing innovative new treatments for a number or different diseases. This is all world-changing research that is being facilitated by transient absorption. "
In addition to building the highest performing spectrometers, Kennehan said Magnitude Instruments' next product is a software that will help analyze the data collected by their instruments; making it faster, easier, and more accurate for customers to interpret results. And after that, he says the goal is to equip TAS instrumentation to all academic, and commercial labs around the world.
"At the moment, we face the challenge of educating researchers on how TAS can be used to solve their problems and relieve their pain points to allow them to advance their research." Kennehan said. "Prior to Magnitude Instruments, TAS has been a relatively niche technique. We are going to change that and bring transient absorption to the forefront of scientific discovery!"