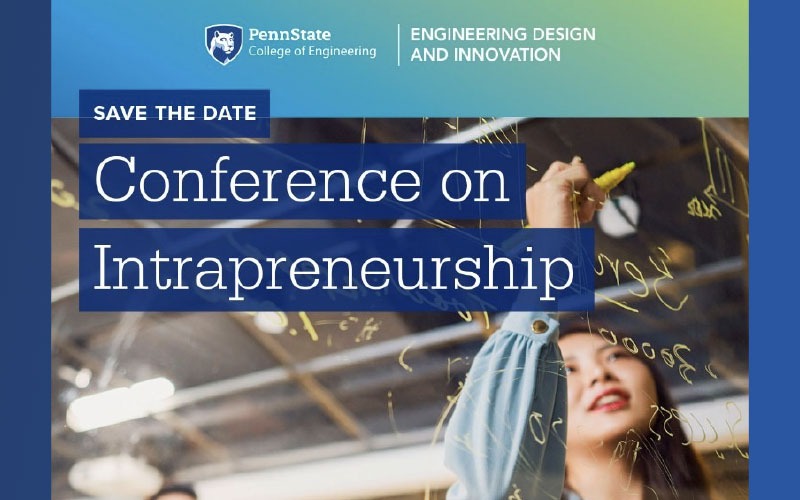 FREE ONE-DAY DOWNTOWN CONFERENCE (3 MEALS PROVIDED) -- REGISTER HERE
Do you want your company to be adaptable and agile? Dr. Irena Yashin-Shaw, a world leader in intrapreneurship education from Queensland, Australia, said that the key is empowering and energizing employees to create change.
On May 11, Dr. Yashin-Shaw will be the keynote speaker for the Conference on Intrapreneurship: Employees as ChangeMakers that takes place from 8 a.m.–5 p.m., at the Eric J. Barron Innovation Hub in downtown State College. The event will include a continental breakfast, lunch and buffet dinner. There are just a few spots left! Register here to reserve your spot.
The conference, which is free, is presented by the Penn State School of Engineering Design and Innovation's Engineering Entrepreneurship Program. Other sponsors include the Farrell Center for Corporate Innovation and Happy Valley Industry. The conference will focus on how employees can create innovation from within a company.
Facilitated discussion topics will include:
Intent of intrapreneurship
Role of management and company culture
Rewarding intrapreneurial innovation and consequences of "failure"
Hiring practices for intrapreneurial growth
Best practices in intrapreneurship
Examples of intrapreneurship working
Schedule
8:00-8:30  -  Registration and Continental Breakfast
8:30-9:00  -  Welcoming Remarks and Conference Overview
Ted Graef, Director, Engineering Entrepreneurship Program
David Mazyck, Head, School of Engineering Design, Technology, and
Professional Programs
Frank Koe, Teaching Professor, Engineering Entrepreneurship
9:00-9:45  -  Keynote Speaker: Irena Yashin-Shaw, Founder, Global Intrapreneurs Institute;
Visiting Global Professor, Ohio State University; Brisbane, Queensland Australia
9:45-12:25  -  Morning Discussion Groups
12:30-1:45  -  Lunch and Networking (Lunch Included)
1:45-4:45  -  Afternoon Discussion Groups
5:00-6:30  -  Reception, Dinner and Closing Remarks (Dinner Included)
Refreshments and snacks will be provided throughout the day.
Speakers:
Keynote speaker – Dr. Irena Yashin-Shaw: One of Australia's leading experts in Innovation, creativity and leadership, Dr. Irena inspires audiences to shift their thinking about how to succeed in the Innovation Age. The unifying driving force of her work is the liberation of human potential that too often languishes within organizations. Organizations that are adaptable, agile, and brimming with empowered and energized intrapreneurs will be the ones that will thrive in the new world.
Facilitators:
Steve Garguilo graduated from Penn State with a degree in Information Sciences and Technology (IST) and is CEO & Founder of Cultivate, a professional services firm that makes big companies more empowering places to work. Cultivate's research and practice focuses on 'Cultivators' (another word for intrapreneurs) and how to empower Cultivators to be successful. For the past five years, Steve has dedicated his life to this pursuit and for the eight prior served as Head of the Office of Creative Engagement at Johnson & Johnson. Steve is also a big fan of Russ Digs Roseberry ice cream and comes down squarely as a Sheetz fan in the Sheetz/Wawa debate!
Chris Goldman is the Associate Chief Engineer of an Integrated Ground Systems program at Lockheed Martin. In his role he is responsible for the unification of Technology and Customer Needs to identify the best opportunities for supporting business growth and the customer's complex mission needs. He is a graduate of Penn State in Mechanical Engineering with an Entrepreneurship and Innovation (ENTI) minor in Engineering Entrepreneurship.
Andy James is Chief Marketing Officer at New Pig Corporation.  He is also Course Author and Instructor of BA850 - Sustainability Driven Innovation which he has taught to master's degree students at Penn State for the past nine years. Prior to joining New Pig 15 years ago, Andy was Director of Concept Development at Olson Zaltman where his advisory partnerships included Audi, T. Rowe Price, Miller Brewing, Toyota, Microsoft and various political campaigns and NGOs. Andy was a Schreyer Honors Scholar in Marketing at Penn State and holds 12 patents for his work in understanding the behavior and risk of spills.
William R. Kidd is an Instructor and Director of Penn State's Entrepreneurship and Innovation (ENTI) Hospitality Management program. Bill holds an M.B.A. from Georgia College and a B.S. degree in Hotel, Restaurant & Institutional Management from Penn State. He has served as Vice President for Asset Management for Hilton Worldwide and Host Hotels & Resorts. Currently, Bill teaches courses in hotel management, asset management, franchising and entrepreneurship.
Masen Nartatez is a flight test design engineer for Lockheed Martin's Sikorsky Aircraft Division where he supports flight tests for new helicopter programs. Masen is a recent graduate of Penn State's mechanical engineering program with a minor in Entrepreneurship and Innovation (ENTI) Engineering Entrepreneurship.
Matt Riley has a diverse background that spans multiple industries and experiences.  Matt joined the Sheetz Corporation in July 2022 in a newly created position as Mid-Range Business Development Manager responsible for ensuring that Sheetz maintains a competitive edge by understanding the future of consumer behavior and expectations for the company's retail operations. Before joining Sheetz, Matt was an intrapreneur and product developer at New Pig Corporation, creating new business opportunities in adjacent markets.  He earned multiple patents and awards for his product lines focused on stormwater quality and sustainability.  Prior to this, Matt was consultative sales manager focusing on helping some of Canada's largest mineral processors optimize their operations.
Register here or at the QR code below.