By Cara Aungst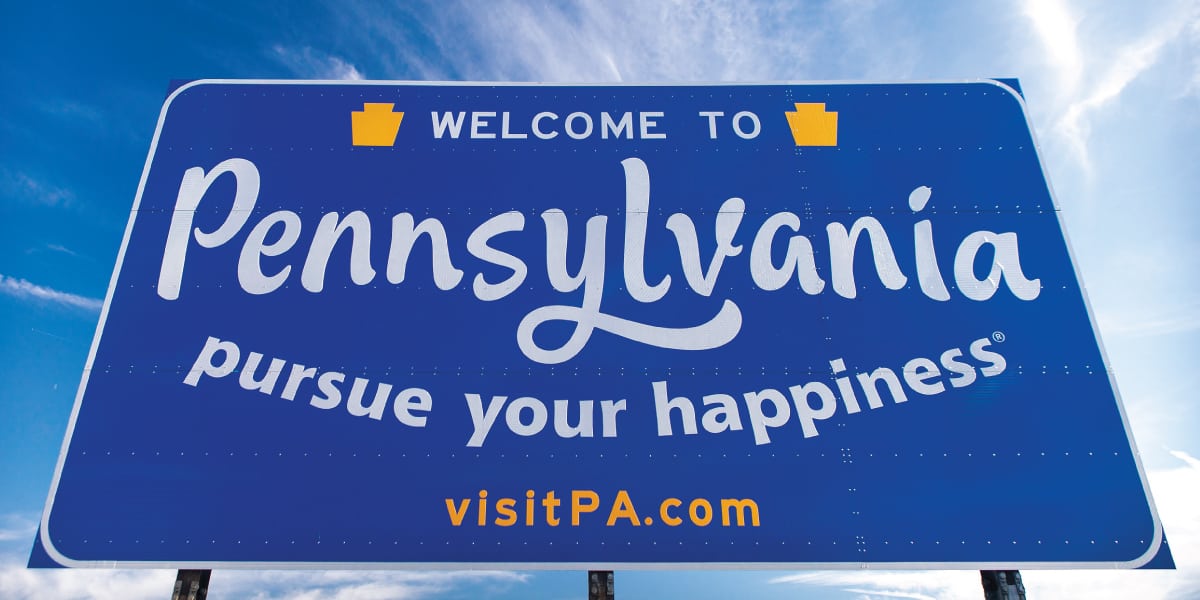 Photo: PA.gov.
Recently, a friend messaged me. As a fellow Happy Valley news junkie, he's always good for sending on local and business headlines with "Have you seen this?!" commentary.
"Not good news," he said about the just-released report that says Pennsylvania was one of the most "moved-out-of" states this past year.
We've all been trained well in the "if it bleeds it leads" mantra of journalism, so it's easy to see a headline like that and run with it. But, fortunately, the real story is much more complex — and optimistic —  than a report from United Van Lines about how many moving trucks full of worn-out couches and scuffed coffee tables crossed state lines for a more humid climate.
First off, business is growing exponentially across the country, and in Pennsylvania. In mid-December, business pundit Scott Galloway sent out his chart of the week headed "A marker for optimism."
"We're living in one of the best times to start a business in over a decade."
"Americans are starting new businesses at record rates," he said. "In 2021, there were 5.4 million new business applications. That's 23% higher than 2020's record. Looks like pandemic economics didn't have the damaging effect you'd expect."
"We're living in one of the best times to start a business in over a decade," he added.
(You can see the bullish chart for yourself below, courtesy of https://profgmedia.com/chart-of-the-week/)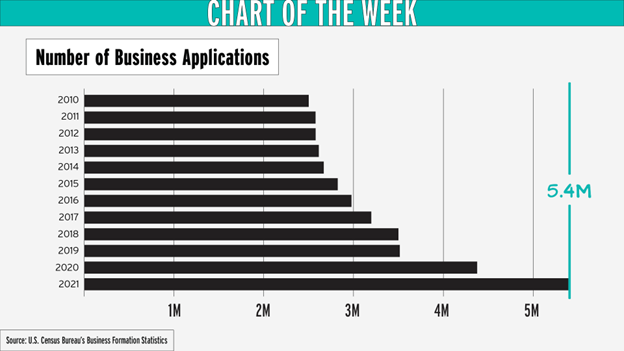 Galloway's numbers are from the U.S. Census Bureau's business formation statistics. Drilled down to a state level, they show that business applications in Pennsylvania rose 54% from 2019 to 2021 and a whopping 113% in a 10-year period from 2011-2021.
Centre County saw a 21% rise in business applications from 2019 to 2021 and a 39% rise in the decade between 2011 and 2021.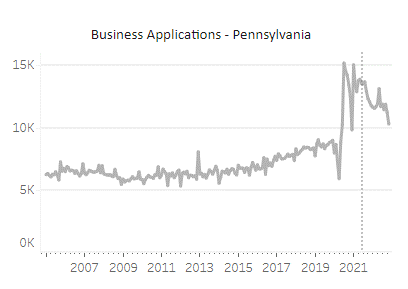 Not only is business booming in Pennsylvania, but it's a good place for business to boom, at least according to Forbes. In a ranking released Nov. 30, Forbes ranked the best states to launch companies, weighing factors that impact businesses and their ability to succeed, like business costs, business climate, economy, workforce and financial accessibility in each state.
It ranked Pennsylvania at No. 4, citing the Commonwealth's availability of resources and funding for entrepreneurs.
"Total small business loan funding in Pennsylvania is double that of the national average at $27.7 million," the report said. "Though this figure is dwarfed by California … Pennsylvania's funding is spread across fewer businesses, driving the average amount per business to be over 20% higher than California's and 17% above the national average."
It added that Pennsylvania is quickly becoming a popular alternative to New York with a lower cost of living and a higher business survival rate — and an income tax that is one-third the amount of New York's rate of 10.9%.
It also added that Pennsylvania's business survival rate is higher than the national average — 83.3%, with the national average hovering at 80.6%.
"The startup industry will continue to be the driving factor for the Happy Valley region, with innovation and business growth for many years," John Peterson, business consultant for Penn State Small Business Development Center, said. "We see healthy startup growth within technology, retail and service-based businesses.
He said that, during and coming out of the pandemic, the Penn State Small Business Development Center has experienced a surge in applications for its expertise and resources.
"We are at record levels helping clients, assisting them to gain capital formation and get businesses started, and clients served in our four-county footprint in Centre, Mifflin, Clinton and Lycoming Counties," he said.
We here at HappyValley Industry are buckled in for 2023 and all it holds, from the threat of recession to moving trucks, thanks to incredible grit and innovation. And we'll be bringing you stories of the year as it unfolds.