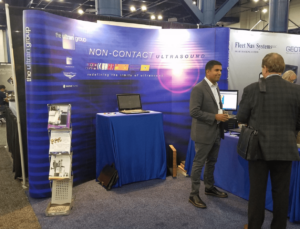 Image: Ultran Group
Nestled among Happy Valley's rolling hills and situated just minutes from Penn State, innovation and Industry 4.0 is thriving and a pioneer in its field is looking toward the future.
Founded in 1977, The Ultran Group was originally dubbed, "Ultran Laboratories," the goal of the company being to advance ultrasound technology and deliver superior product performance. To that end, it has strived to innovate since its inception and has become a pioneer in the field. Today, Ultran is a leader in ultrasound technology research, development and manufacturing.
"The Silicon Valley of Ultrasound Technology"
Chief Operating Officer Mike Whetzel says the company has grown thanks to its team and its location in Happy Valley.
"We have customers across the globe and are proud of the network we have established. We are able to uniquely meet the needs of our customers because of our tremendous employees," he says. From sales, manufacturing and development through software engineering and office support, Whetzel credits the company's world-class team, which works extremely hard to exceed the expectations of its customers, for its success and fueling its vision for the future.
He continues, "State College is the Silicon Valley of ultrasound technology in a lot of ways. With so many ultrasound companies located here, it is a great place for Ultran to have been founded and continued to operate. We have been fortunate to have a pipeline of talent in the local area and have also been able to interface with excellent people in the community for internships and positions."
Leading the Market, All From Happy Valley
One of Ultran's core inventions came about in the late 1990s, when the company invented a product design that made transmission of ultrasound through air not only possible, but also efficient. Whetzel notes, "The invention of non-contact ultrasound technology enabled a new field of non-contact inspection for uncured parts and continuous and piece-part production, applied to aerospace, semiconductors, wood processing, food sanitation and many more industries."
Ultran's core inventions continued in the 2000s with the invention of a new piezoelectric composite material, which powers low frequency transducers, providing higher sensitivity and increased bandwidth. The company recently further enhanced this design, producing 2D phased arrays used in ground-breaking medical therapies.
Today, Ultran serves a wide range of customers, from government to education to private industry, including consumables and aerospace. It designs and builds world-leading transducers, including non-contact, conventional and low-frequency GMP options. It offers multiple non-contact units to meet the needs of its ever-growing roster of loyal customers. Ultran also offers
benchtop analysis systems, like the next-generation U710x, a turnkey inspection system that boasts the fastest speeds and highest sensitivity on the market.
"Ultran is uniquely positioned to be able to design, manufacture and support the products that we sell, from our headquarters in State College," says Whetzel.
Ultran is currently working to optimize its facility layout, evaluate manufacturing equipment needs and create succession planning to ensure continued success in the future. "We're always looking out for what is next while celebrating our history and accomplishments," says Whetzel. "While many people likely haven't heard of Ultran, we're excited to be part of the local fabric of State College. As we continue to grow and evolve we'll be continuing to add to our team and offer a unique place to work with a fun and engaging environment and would love for more people to check us out!"
To learn more about The Ultran Group, visit http://ultrangroup.com/ .