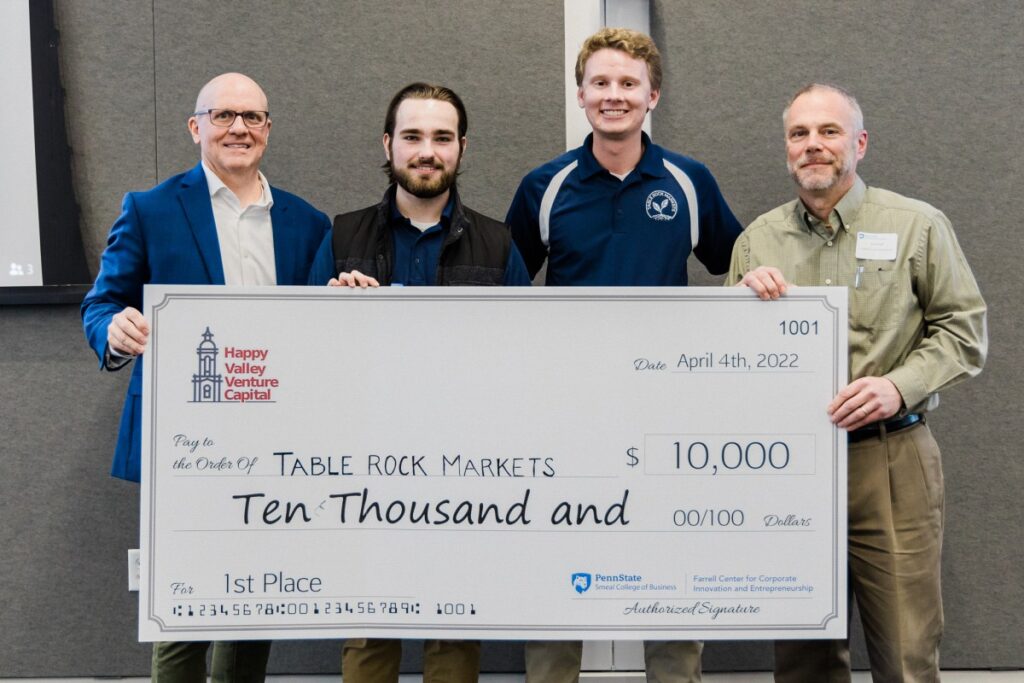 In a recent interview with HappyValleyIndustry, Tuft & Needle founder (and Penn State alumnus) JT Marino said that when searching for an idea for a startup, start with what has been a pain in your own life. "You are your first customer. If it's been a pain for you, it's been a pain for someone else."
On April 4, Penn State entrepreneurs lived out this advice in their startup pitches during the Happy Valley Capital Pitch Competition in the Penn State Innovation Hub as part of Penn State Startup Week powered by PNC.
The event was presented by student-run Happy Valley Venture Capital in partnership with the Farrell Center for Corporate Innovation and Entrepreneurship. Funding was provided by the Farrell Center for Corporate Innovation and Entrepreneurship and the Engineering Entrepreneurship program (E-SHIP). It was judged by Peter Aaron  of Innovation Works, Jim Steinbugl from Penn State's Office of Investment Management; Happy Valley Venture Capital Founder Matt McHugh and Penn State alum and Xeal founder Nikhil Bharadwaj.
The pitch contest introduced six startup concepts to the standing-room-only crowd, and each one proposed a unique solution to a pain point that the founders experienced.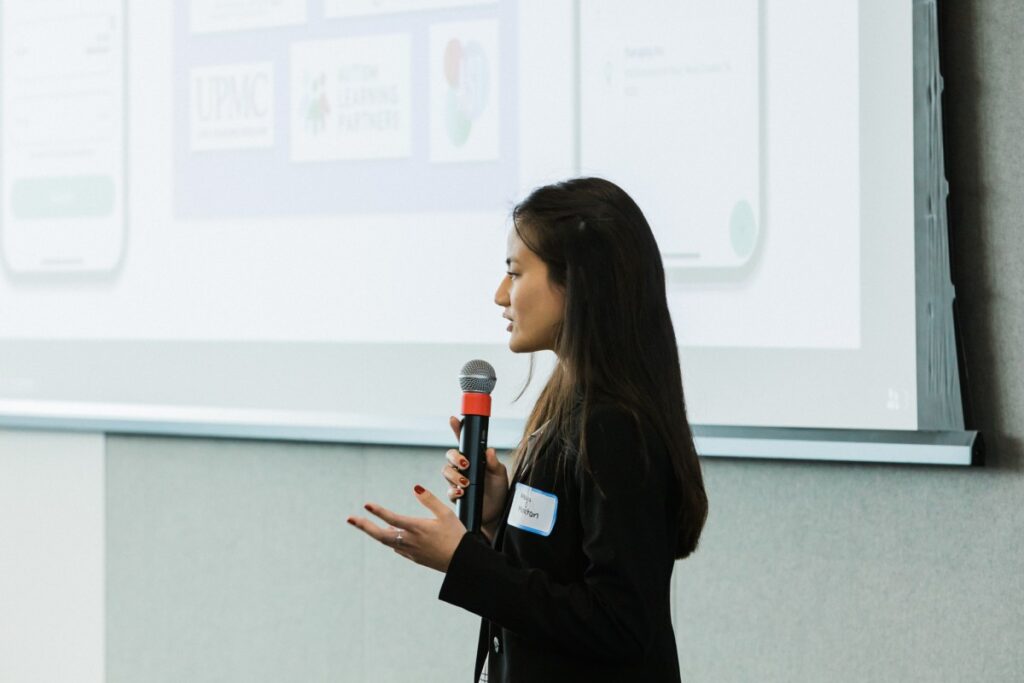 The Ballet Scout was started by a dancer and his team, endeavoring to create a platform where performers could easily find training opportunities, auditions and employment, allowing them more time to pursue their passion.
Table Rock Markets was born out of a very specific problem for founder Jake Grim. Grim dropped out of Penn State to help his family run their farm. After wrestling with the issues of getting quality food to consumers at a profit for farmers, Grim decided to return to Penn State and use the tools at the University to help solve the problem. His team created an online platform that enables producers with little tech ability to easily reach their market.
Parentiv is an app that aims to connect parents of children with special needs with experts, schools and therapists, collaborating on care and outcomes. One of the founders is a parent of a child with autism, and his experiences color the solution, from symptom tracking to goal setting to communication with therapists.
Unbaked Flour Company aims to support our gut microbiome, and fight digestive disorders — one donut hole at a time. Their concept "Whole hole" combines prebiotic and probiotic goodness in a treat that's soy-free, grain-free, vegan and nonGMO.
Ithaka — the brainchild of two landscapers — aims to make business tools quick and easy for landscape businesses. Saying that current offerings are either created by 'out of touch' software companies or duct-taped together to barely function, they want to create simple, easy interfaces for estimating, invoicing and inventory for small landscape companies, so they can keep doing what they do best.
Penn State quarterback Sean Clifford ended the pitch competition with a presentation on his new company, Limitless, a new agency that will represent college athletes and help them maximize their opportunities under the NCAA's new name, image and likeness legislation. "We're moving the ecosystem in the right direction," he said. "This is a historical movement that will change student-athletes forever. The opportunities are limitless."
After deliberation, the judges awarded $1,000 prizes to Unbaked Flour Company and Ithaka; $3,000 to BalletScout and $5,000 to Limitless. First prize, and $10,000, was awarded to Table Rock Market. Ummi, which did not make it to the final round, won the $1,000 minority award. Spectators voted for the People's Choice award, which was also awarded to Table Rock Market.
Here at HappyValleyIndustry, we've talked to so many founders of successful companies who have said that they've gotten their start thanks to Penn State, so sitting in on this pitch contest felt like seeing the prequel to a great big story. We'll be watching these Penn Staters, and their ideas, take flight over the next few years. Stay tuned.
Cara Aungst writes about industry, innovation and how Happy Valley ideas change the world. She can be reached with story ideas and comments at Cara@AffinityConnection.com.