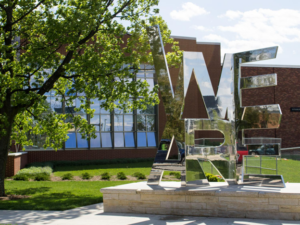 Photo: Penn State/Christie Clancy.
Penn State topped rankings in  U.S. News' annual "Best Colleges" ranking for 2022-23, released on Sept. 12. In the study, Penn State is in the top 25 among American Association of Universities public institutions, 31st among national public universities and 77th overall among 443 institutions included in the "National Universities" ranking.
The University continues to show strength, ranking in the top 10 in seven undergraduate programs including engineering and business, where it retained last year's ranking of 23 out of 516 programs that were ranked.
While we value rankings and other surveys, it also is true that a single rating or number cannot tell the full story of Penn State and its broad impact. — Penn State President Neeli Bendapudi
Penn State ranked well in a number of business specialty programs: supply chain management/logistics (4); insurance (9); production/operation management (10); real estate (13); management (14); marketing (27); accounting (28); finance (31).
Penn State ranked 22 out of 212 schools in "Best Engineering Programs," at schools whose highest degree is a doctorate. The University also ranked well in a number of engineering specialties: petroleum (7); biological/agricultural (8); materials (9); industrial/manufacturing (10); mechanical (14); civil (15); aerospace/aeronautical/astronautical (17); environmental/environmental health(18); chemical (21); electrical/electronic/communications (23); and computer (27).
In addition, Penn State also ranks highly in polls released by other organizations with methodologies that focus on quality and research excellence. Penn State is one of the world's elite public research universities, among the top 1% of higher education institutions globally. In the 2022-23 Center for World University Rankings poll, Penn State ranked No. 53 out of 2,000 institutions internationally for the quality of its education, employability, faculty and research. In June, the University rose to 93rd in the world in the 2023 QS World University Rankings, and came in ninth among all public U.S. universities, even as the number of institutions ranked increased 9% in size over the past year to include more than 1,400 of the world's leading universities.
"While we value rankings and other surveys, it also is true that a single rating or number cannot tell the full story of Penn State and its broad impact, created by an innovative 20-campus educational model recognized for preparing graduates who are sought after by employers, and the breadth and depth of a top-25 research university," Penn State President Neeli Bendapudi said in a press release.
"More than 381,000 Penn State alumni live and work in the state of Pennsylvania. The University contributes billions to the Pennsylvania economy each year and has helped to create more than 105,000 jobs across the commonwealth. Our brilliant faculty and students generate nearly $1 billion in annual research expenditures and each day are working to solve pressing problems that impact our world. With the support of our entire Penn State community we have achieved record fundraising success in support of our students and our mission," Bendapudi said. "... Numbers such as these also indicate the impact Penn State is having across Pennsylvania, across the nation and around the world."