By Cara Aungst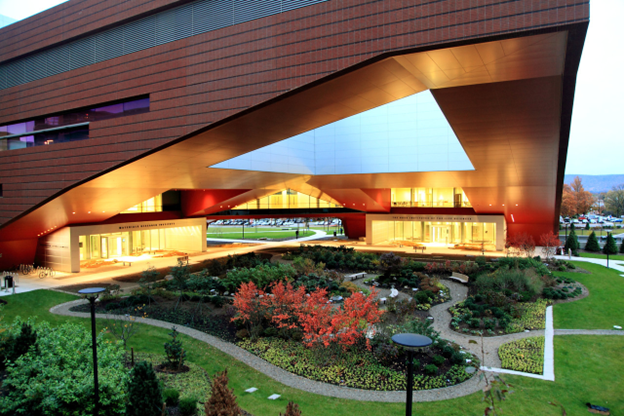 Photo: Penn State
On October 20-21, Materials Day at Penn State showcased two things that University excels in: breakthroughs in materials science, and collaborating with industry and government entities to propel innovations into the marketplace.
This year's event, which was held in person after a two-year hiatus, focused on research discoveries being transitioned into the marketplace where they can benefit society.
Clive Randall, director of Materials Research Institute, said that having the event in person after two years of virtual attendance was a boon. "The lack of human contact and interaction creates a friction for creativity," he said, emphasizing that the Materials Research Institute partners with other institutes for interdisciplinary collaboration.
He pointed to progress made in partnerships with other universities around the world, equipment, internships, and research breakthroughs, as well as seed grants given to promote humanitarian research: "Materials matter at the human level."
"The culture here is very supportive — it combines top-notch research without the attitude that is sometimes associated with that."
Randall added that Penn State remains ranked #1 nationally in materials science and #2 in materials engineering for the fourth consecutive year in NSF total research expenditures — impacting more than $150M of Penn State's overall research portfolio.
Keynote speaker John Mauro, a world-renowned expert in fundamental and glass science, added to the list. He accepted a position as a professor of materials science and engineering at Penn State for three big reasons, he said.
"First, Penn State is a powerhouse of research," he said. "Second, it's well known for industrial collaboration, and I wanted to do research that was industrially relevant. Third, the culture here is very supportive — it combines top-notch research without the attitude that is sometimes associated with that."
During his keynote speech, Mauro unveiled the new invention LionGlass — a glass that will reduce melting and forming temperatures by 350 degrees Celsius. The lower working temperature will reduce carbon dioxide emissions from glass production while maintaining corrosion resistance and transparency. "We are looking for industry partnerships to work through any problems and move beyond flat glass," he added.
In the following keynote speech, Professor Dan Hayes, who is head of the biomedical engineering department, discussed how Penn State is pioneering regenerative medicine to create "highly personalized medicine."
"Scaffolding for nerve regeneration using citrate biomaterials was recently FDA approved, and it happened right here at Penn State." he said.
Materials Day also included breakout sessions with Penn State faculty and industry leaders, as well as networking opportunities to serve as a launchpad for future collaboration.