By Jodie Dello Stritto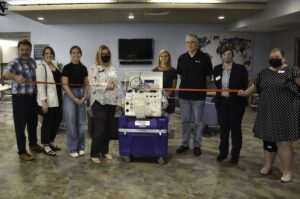 Local blood donors can now double their impact thanks to the generosity of a group of local companies who pitched in to help the Mid Central Pennsylvania Chapter of the American Red Cross purchase a Power Red machine. The machine enables a donor to give two units of red blood cells during one donation. The machine separates and collects two units of red cells and then safely returns the remaining blood components, along with some saline, back to the donor through the same arm.
Mount Nittany Health, Ben Franklin Technology Partners, AccuWeather, KCF Technologies and Drucker Diagnostics contributed to the project.
"The need for blood is constant, and a Power Red donation is a way to save time and make your blood donation go further," said Hope Roaten, executive director of the Mid Central Pennsylvania Chapter of the American Red Cross.
The Red Cross is the nation's largest blood supplier, providing 40% of U.S. blood to hospitals and cancer treatment centers. Between February 2021 and February 2022, Mount Nittany Health used nearly 2,500 units of red blood cells and nearly 400 units of platelets from the American Red Cross. To continue filling those needs, the Red Cross depends on reliable equipment.
Power Red is for type O, A negative or B negative donors. Other eligibility requirements do apply. To schedule an appointment to donate blood, platelets or plasma, download the Red Cross Blood Donor App, visit RedCrossBlood.org  or call 1-800-RED CROSS (1-800-733-2767).