By Cara Aungst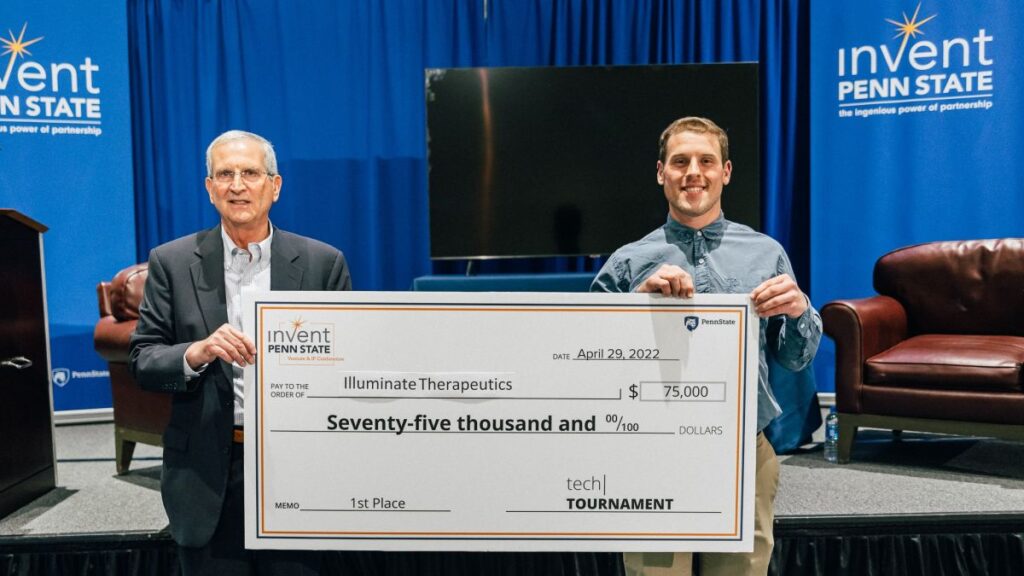 Illuminate Therapeutics won $75,000 in the Penn State's Tech Tournament for its disruptive technology to battle head and neck tumors. (Pictured, Nick Alden, graduate student in biomedical engineering, accepting the award from James Pietropaolo, associate director of the Office of Entrepreneurship & Commercialization.)  Credit: Invent Penn State / Rick Brandt
On April 29, Illuminate Therapeutics earned the grand prize of $75,000 at the Invent Penn State Tech Tournament, taking place during the 2022 Invent Penn State Venture & IP Conference. 
The startup, led by principal investigator and Penn State Professor Dan Hayes, is championing a treatment for head and neck cancers that is poised to change the cancer-treatment landscape forever. 
Dan Hayes is the Huck Chair in Nanotherapeutics and Regenerative Medicine and a professor of biomedical engineering. In 2021, he became the director of the Center of Excellence in Industrial Biotechnology. 
And the day that I talked to him, he was very, very hot. He dialed in to our Zoom call from New Orleans, where the mid-morning temperature was already crawling toward 90. "This isn't Happy Valley weather," he said with a laugh. And he should know. 
A Happy Valley native, he grew up in State College (in fact, today he lives on the exact same street where he lived as a child) and attended Penn State because of its prowess in Materials Science. After 8 years at Louisiana State University, he says that Penn State's "tremendous collaborative potential," along with the area's outdoor adventures, was a big part of bringing him back to the area to teach and research. 
"I chose to come back here," he said. 
Hayes was trained as a materials scientist, not biomedical engineer, which gives his biomedical research a distinctive expertise. He said, "I approach my research from a materials science viewpoint. It's complex quantum mechanics — it's interesting physics. Intellectually, that lends itself to the technology development."
As to why a materials scientist is knee-deep in developing a cancer treatment that could make global impact, Hayes said: "It's because I want to have an impact. I want to help people. Journal articles don't necessarily lead to outcomes. But building this company? That helps people." 
Simply put, Illuminate Therapeutics offers a precision, light-controlled oncology therapy that provides a minimally-invasive treatment option for head and neck cancers. 
"Some head and neck cancers, like squamous cell carcinoma, have a near-99% survival rate, but the treatment regimen is extremely damaging. The radiation damages tissue, and when we are talking about the head and neck, all the tissue is so integral. If you lose use of part of your tongue or larynx, it's detrimental to your quality of life," Hayes said. "Glioblastoma, an aggressive cancer in the brain or spinal cord, is truly terrible. The survival rate is in the single digits and there is no effective intervention. Treatment is usually concentrated on palliative care. It's a truly tragic outcome."
When Hayes and his team started to work on light-activated drug development in 2013 with a grant from the National Science Foundation, he said that he was so focused on nucleic acid-based pharmaceuticals and how to deliver them into the body that he didn't realize the light bulb moment at first. 
"I wish I had been that thoughtful," he said. "It was one of my clinicians that pointed out how useful this delivery method would be to treating hard-to-reach head and neck cancers." 
The next lightbulb moment happened in 2020 during the initial preclinical trials. He and his team were targeting squamous cell carcinoma with the goal of slowing the spread.
Instead, within 24 hours, the entire tumor had collapsed. "Our initial thought was — this can't be real!" he said. 
Those dramatic results have spurred on two years of intensively testing the technology. "The results have been dramatic — markedly dramatic," he said. 
Those two years of testing bring us to today. Hayes said the $75,000 award from the Tech Tournament brings visibility to the company and its mission, and the capital will be leveraged to raise more capital as they forge ahead on the "not inexpensive" path to FDA approval. 
"We are working to identify lead compounds for head and neck cancers over the next year," Hayes said. "After that, preclinical trials will lead to human trials."
After that, the Illuminate Therapeutics team will be one giant step closer to fulfilling their mission of changing the lives of cancer patients and their families. 
Cara Aungst writes about industry, innovation and how Happy Valley ideas change the world. She can be reached with story ideas and comments at Cara@AffinityConnection.com.