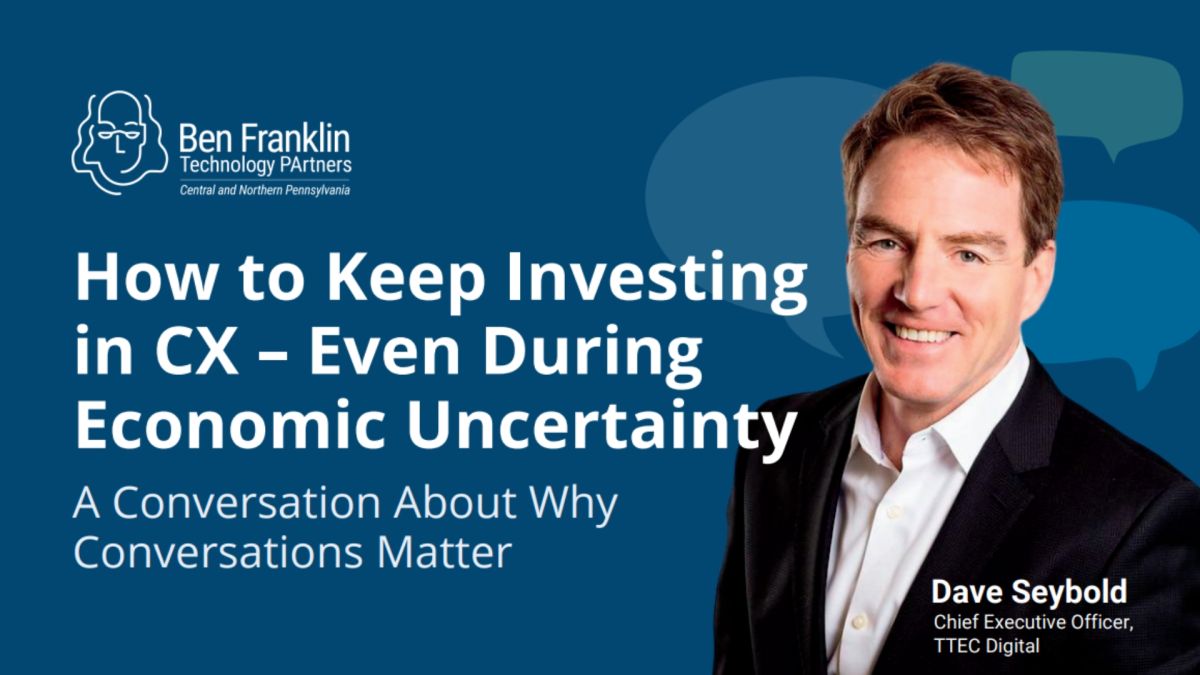 Ben Franklin Technology Partners of Central and Northern PA is hosting a free, in-person session featuring Dave Seybold, CEO of TTEC Digital, as he discusses the importance of investing in customer experience, especially during times of uncertainty.
The event will include an afternoon of discussion, light refreshments and networking with other entrepreneurs, students, faculty and small businesses in the State College area.
About the session
In 2022, customer experience passed price and product as the core value driver for businesses. To be successful in today's experience-driven economy, brands must invest in the interactions — the experiences — customers have with their brand. However, because today's customers interact with brands across so many channels, many companies struggle to identify where to invest in customer experience so that they realize real, tangible benefits.
The truth is that you can activate multiple channels faster than ever before, and there's a crucial moment to focus on within each channel — the conversation. In this presentation, we will discuss why focusing on conversation can drive revenue and results — especially during times of economic uncertainty.
About the speaker
Dave Seybold is a dynamic and proven leader who brings more than 30 years of global expertise partnering with clients to design and implement technology solutions at scale. He is inspired by creating business value using digital cloud technologies and leading diverse, global teams, and has held senior executive leadership positions at IBM, Avanade, Atos and TTEC while living in Bangalore, Madrid and the United States.
Event Info
Date: April 4, 2023
Time: 2:00 – 4:00 PM with light refreshments and networking
Location: Penn State Innovation Park, 200 Innovation Blvd Room #243, State College
Cost: Free
Registration: Please RSVP to Michelle Cook at mac80@psu.edu by March 28.